L7 AND FRIGHTWIG IN SF AUG. 28TH @ THE REGENCY BALLROOM!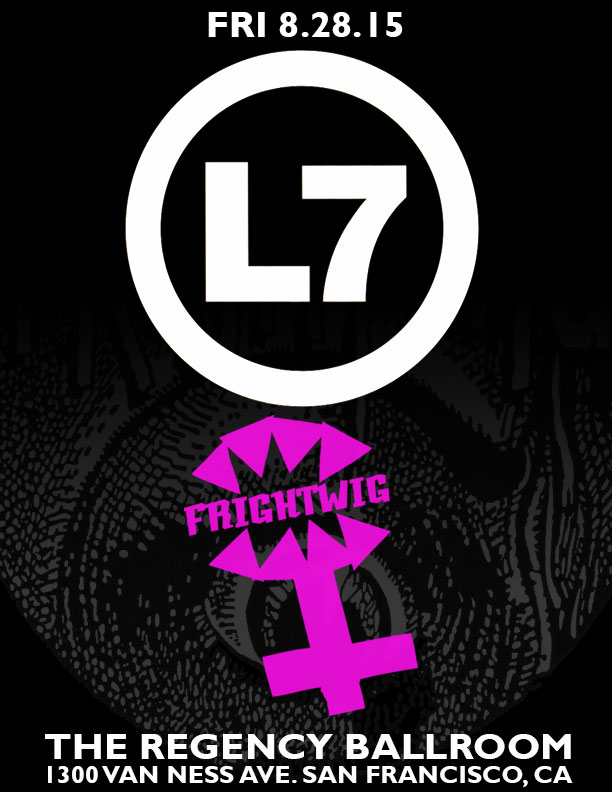 ---
Reviews of L7 show at the Regency Ballroom 8/28/15:
"Opening the show was the quintessential San Francisco punk rock band Frightwig, who once again proved to be the perfect choice to open the show, just as when they played with Faith No More a few months earlier. Led by the thundering bass tone of Deanna Mitchell, the glorious noisy guitar of Mia Simmans, and the pounding drumming of Cecilia Kuhn, the band put on a set of songs that surely had more than a few old schoolers in the crowd flash back to see the band tear up the On Broadway, Mabuhay Gardens or the Tool and Dieback in the day.
National Rock Review photographer Raymond Ahner was on hand to report." – National Rock Review
---
"Last night TEENAGE NEWS caught Frightwig at the Regency Ballroom in San Francisco. It was a perfect show that no true "Punk" shoulda missed. Frightwig are original gangsters, the true pioneers behind the Riot Grrrl Movement. Their debut album "Cat Farm Faboo" gives Punk a knockout punch and establishes Girl-Art.
TEENAGE NEWS doesn't give half a shit what you think, Frightwig is San Francisco's most ferocious and talented band. It is time to bow down or die.
Frightwig's set was too short… They should have headlined the gig; the crowd was left salivating and begging for more. The band is tight and better than ever. Don't miss them because you need your life changed. They give you salvation, and (most likely) will absolve you of your sins.
Last night, Frightwig played most of their hits, and even if you don't know their songs their hooks force you to sing along.
…Mia absorbs the underground of her being, and shreds her guitar harder than heavy metal and faster than Punk. Holy cow… her guitar makes so many different noises in every song you think she is playing three guitars at once. You can catch her regularly at San Francisco Farmer's Markets. Don't miss it! Support "local," damnit.
Frightwig is intimidating. They use their knowledge from the past to be combative in the future. Frightwig puts you in Space where you are free from Control. Don't forget: they are San Francisco's most ferocious and talented band." – Teenage News
---
"…How appropriate then that these metallic-punk heroines got support from San Francisco's own Frightwig. Coming up with the rest of the city's punks in the early '80s, the (mostly) female band morph from punka-boogie to psychedelic garage pop to arty spoken-word. The members swapped instruments just as easily, as when drummer Cecilia Lynch-Kuhn got up from her drum set to sing "I'll Talk To You And Smile," ostensibly about a child molester whose victim later becomes a prostitute. Gesticulating wildly as she groan-sang "I know what you did …." the bizarrest moment was the outro where Lynch-Kuhn signed the lyrics as if to a hearing-impaired audience. Whatever the symbolism, some could relate. Later on, according to L7's Finch – a one-time SF resident with former roommate Courtney Love – "[Frightwig] got me through some really hard times." – SF Weekly