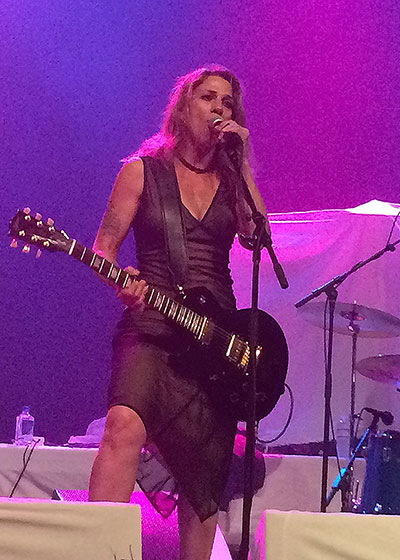 With her latest project Dizzy Twin, punk rock royalty Mia Simmans keeps hoisting her freak flag higher. The co-founder of San Francisco's feminist punk icons Frightwig has been delving deep into more melodic and textured songwriting while fully retaining the outsider spirit that has fueled her music for the past four decades.
With Dizzy Twin, Mia and her partner Paul Simmans explore a netherworld of weird, witchy vibes. "We have been collaborating for over 20 years now," says Mia. "We've done a bunch of bands that you've never heard of and put out various albums under different project names (Gone to Ground, Mama Mia d'Bruzzi), and also produced two albums by our son's elementary school band, Sticky Situation. Dizzy Twin is a real departure from what we have done before; it pushes me to produce different-sounding music, and it's forced me to improve as a musician. And it's allowed me to invent a superfun alter ego for live performance- what a show-off!"
Dizzy Twin has been described: "… Jim Morrison (Strange Days era) looks on from the wings in amusement, Nick Cave is making notes (for future reference), Flannery Connor casts the huge dark wing of her pessimism over the whole proceedings, while Sally Bowles claps delightedly from the front row. Their sound is a marriage of punk rock attitude and old school burlesque bump and grind, with a lot of Brecht and Weill decadence and black humour thrown in."– David Kelso-Mitchell Oneiros Press
To date, they've put out two albums: Kaleidoscope (2016) and Empire (2018), the latter of which was mastered at Abbey Road Studios. New album Polarity is due for release Fall 2022. Though Dizzy Twin originally began as a studio project, the live band delivers these songs to the stage with a wallop: Roger Rocha (4 Non Blondes, The Goldenhearts) on guitar, Tim Perdue (Enrique, Velvetta) on bass, and Michael Tornatore on drums, along with Paul on guitar and Mia on vocals.
So what drew this dyed-in-the-wool punk to such disparate new styles? In part, pain. Not the romanticized, wounded-lover type of pain—actual, literal pain, specifically nerve and muscle damage to her neck and shoulder. It's unfortunately not all that surprising given Mia's lifelong love affair with the guitar, beginning with teenage punk bands in the '80s all the way through to a career as a street busker for the past six or so years. For decades, wherever Mia went, her guitar went with her.
"When I was 18, someone owed me money and gave me a Harmony Stratotone semi-hollow body guitar as payment," she says. "I tried to play, but it was strung right-handed, and I'm totally left-handed, and I just about gave up on it. One day, I absentmindedly flipped it over, and found out I could, in fact, play. Only one of my hands has rhythm, apparently, and it's my left one. After this discovery, someone made the mistake of giving me a distortion pedal, which makes basically anything you play sound evil as fuck. I haven't stopped since."
Except when she had to. All that repetitive motion compounded by the way Mia held her guitar pinched the nerves in her left arm, shoulder, and neck. "I couldn't even lift my left arm, so I couldn't play," says Mia. "I didn't touch a guitar for nine months."
The time off allowed Mia's body to heal and relieve the pain. "Now I can play a little bit of electric guitar on my Strat, because it's slim," she says, "and as long as I play with my elbow by my side (like the Ramones), it seems to be OK."
While a nine-month guitar hiatus doesn't sound like the end of the world, it was basically asking Mia to put part of herself on hold. "I didn't know who I was," she says. But it also helped her to focus her energy on a growth process that had been rapidly unfolding in recent years.
"My newer songs are less hurt and angry, more witty, and definitely more worldly—that applies to all of my original songs, for both Frightwig and my other projects," explains Mia. "My voice now is a bit world-weary woman. One thing I'm proud of is that I can now write stories in my songs. Before, they just came out as unformed emotional first-person pain. When I was writing as a teenager, I was coming from a place of blind rage, and in many ways I was a child."
Mia spent her early years in New Jersey and Washington DC before her family moved to Palo Alto, California. "Palo Alto was not a good fit for me," she says. "I got kicked out of my family home and moved to San Francisco in 1980 when I was 16."
Shortly after, Mia would find her calling. She got a job at a movie theater where most of the musicians and artists du jour were working. "Everyone was a punk rock freak, and it was a great scene," she says. "That's how I found punk rock. I was underage, but I was welcome at the Mabuhay Gardens and all the other punk dives of the day."
It was at the movie theater that Mia met Deanna Mitchell (née Ashley), and the universe would never be the same again. "Deanna was singing in a couple of VERY COOL bands, and we became very close friends," says Mia.
In the winter of 1982, the two girls got laid off and began collecting unemployment. (Coincidentally, that was when Mia received her first distortion pedal.) They started Frightwig together, with Mia on guitar and Deanna on bass.
"We both decided we didn't need any other musicians; we could do it ourselves!!!" says Mia. "What ensued was months of hot toddies and uncontrollable distortion. We played at my warehouse and made my roommates want to die." They eventually added their beloved Cecilia Kuhn (née Lynch) on drums and Susan Miller on guitar.
Their debut album was 1984's Cat Farm Faboo, full of raucous, biting feminist screeds including "My Crotch Does Not Say Go," "Vagabondage," "I'll Talk to You and Smile," and "A Man's Gotta Do What a Man's Gotta Do." AllMusic called the album "salacious and aggressive… an unholy racket the likes of which you've never heard before. It's a mess, but it's a glorious, fun-filled one," while NME listed it as one of the 100 cult albums to hear before you die. Notable bands that have celebrated Frightwig's influence include L7, the Lunachicks, Hole, and Bikini Kill to name a few.
"Frightwig has never pandered to the status quo, and back in the day, there were not a lot of female musicians doing that," says Mia. "I am proud that I have been told by other women that we inspired them not to worry about all that shit we are fed about what it means to be female in our culture. I am also proud that we never asked permission to be who we are."
Mia left Frightwig in 1985, had a daughter the following year, and rejoined the Frightwig fray in 1989 for a short stint. Then from 1990 to 1995, she played in the darker, heavier Mudwimin, releasing Skiz in 1992 and Mysteries of Inner Beauties in 1995. Frightwig got back together for shows and touring in 1995, after which they paused again until that old familiar feeling drew them back once more.
"I am very grateful that we were able to get back together with Cecilia in 2012 to tour and record again," says Mia. "We were very lucky, got to play some amazing shows, recorded a full length LP (which we don't have the money to release), and just basically got to ride high again before cancer took Cecilia's life in 2017."
But just as death is not an end but a transition, Frightwig will march on. "Deanna and I have decided to start doing a Frightwig unplugged kind of thing—we could never be the band we were because Cecilia is not here anymore," Mia says. "But we have decided that it's time to re-imagine the old mare and trot her out once more because our work is not yet done."
No matter what kind of music Mia is making, who she's making it with, or on what instrument, expect it to be equal parts hair-raising and hell-raising. A gal's gotta do what a gal's gotta do."
—Jeanne Fury