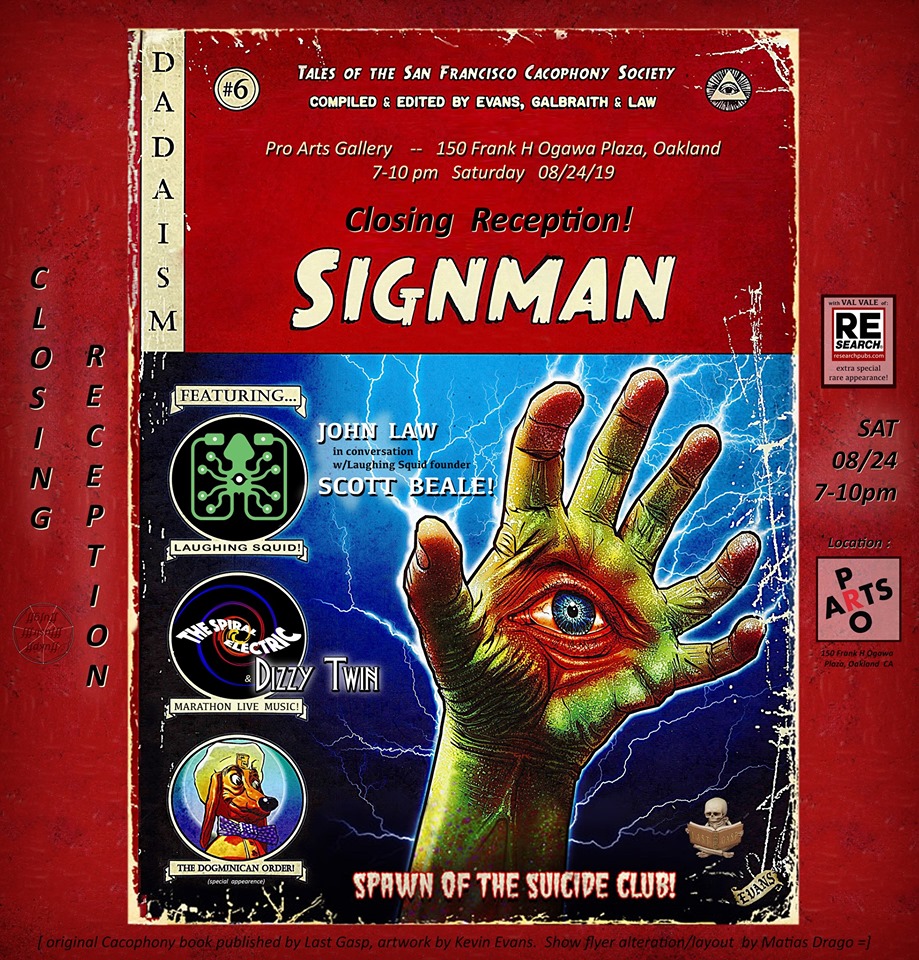 City
: Oakland, CA
Venue
: Pro Arts Gallery & COMMONS
Address
: 150 Frank H Ogawa Plaza
Time
: 7pm
Join us for the closing reception of SIGNMAN! John Law in conversation with Laughing Squid founder Scott Beale, discussing the interplay between SF underground and the emerging internet world of the 90's. Special appearance by Val Vale, showcasing rare finds from the vault of Re/Search Publications.
Live performances rich in soaring melodies by heavy-psych band The Spiral Electric, and the dark-cabaret infused neo-psychedelia of Dizzy Twin (featuring members of Mudwimin, 4 Non Blondes, The Goldenhearts).
A festive conclusion to John Law's three-month retrospective of 42 years as an American artist, culture-jammer, and co-founder of various seminal cultural movements. Curated by Executive Director of Pro Arts Gallery, Natalia Ivanova Mount.
More details here:
https://proartsgallery.org/event/signman-john-law/
SIGNMAN: John Law Exhibition, in conversation series: Scott Beale & John Law in conversation
An early adopter of Internet based communication and social media; Scott was a primary figure in exposing the San Francisco's artists & pranksters to the web. Long before Facebook, Scott's "The Squid List" was how those interested in the SF underground found the most intriguing events, openings, shows, as well as other creative folks. Beale is owner of Laughing Squid, one of the oldest independent web hosts and culture blogs. Law is a minority owner and "Director of Special Projects" for The Squid. Beale was the first webmaster for Burning Man and, in his capacity as de-facto scene videographer, Filmed dozens of Cacophony and early BM events and various other extreme group activities, taking place beyond the borders of normality.
Beale and Law will discuss the interplay between and influence of the San Francisco underground on the nascent computer/internet/ social media world of the 90's in The Bay Area.